Program: Dragons
Age Group: 3-5 year old

This program teaches our little ones foundational karate skills. Self-defense at this age takes on so many forms which is why our program also includes teaching students how to avoid conflict and fighting in the first place.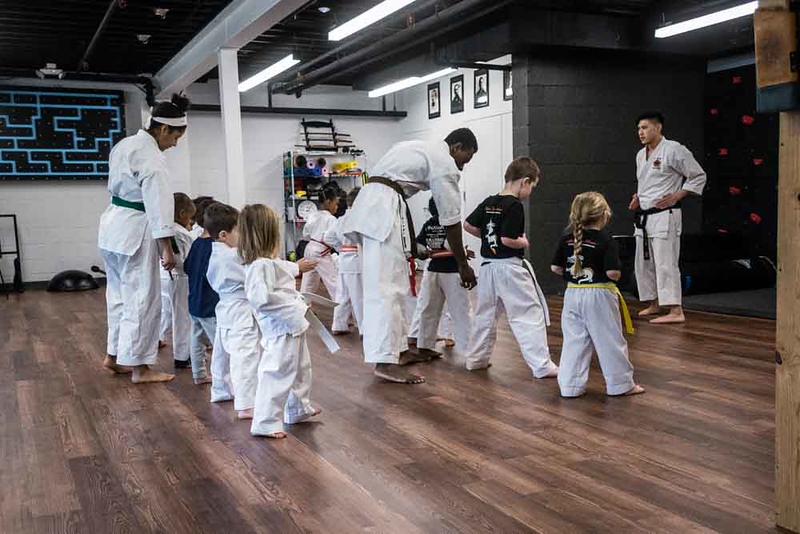 In the Dragons program, a primary aim is to keep kids engaged and focused.  Our 30 minute class is designed to keep them moving and having fun.  We engage them with interactive drills, exercises, and games to instill a solid skill set of the common techniques needed for karate training: blocks, punches, proper movement and balance, kicks, and more.  We also teach our students to be safe by using a common sense approach to protection.
Awareness techniques and verbal resolution skills
Body language concepts (ie body posture, eye contact, and voice)
Our second area of emphasis in this age group is physical fitness. We develop fundamental athletic skills like coordination, flexibility, body balance and agility.  The benefits of karate training at the Okinawan Karate Dojo, prepares kids to use these same skills in dance, baseball, soccer, swimming, and running.
Our third area of focus for the Dragons, is also what their parents like best:
Self-control
Self-confidence
Positive thinking
Listening skills
Respect/good manners
Focus and attention (blocking out distractions)
Perseverance and courage
These life skills form the foundation of success in martial arts training…and can set the stage for the rest of their lives!  We would love the opportunity to work with your 3-5 year old!
Want to enroll or have questions about our programs?
Feel free to stop by our studio, give us a call at (443) 574-8999 or contact us online. We look forwarding to meeting you!