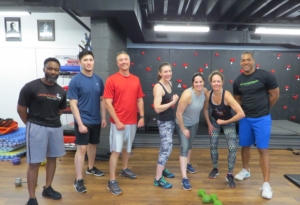 The Power Hour is an hour-long, energetic, group workout (with the personal attention of a private trainer!) that targets the full-body.
Safe, Rewarding, Modified for ALL fitness levels!
$225 for 16 classes (less than $13 a class!!)
$140 for 8 classes
$20 for drop-ins
Join at anytime, fees can be pro-rated!
The packaged classes will expire at the end of the 16 week period
Tuesdays & Thursdays – 6:30am – 7:30am in the Downstairs Training Floor at the dojo.
Whether you are a Spartan athlete, new to exercise, or somewhere in between…all participants find their time in this class to be Worthwhile and Results-Oriented.  You CAN do it!  Again, please let me know if you are interested.  We are looking for a minimum class size in order to make this work!