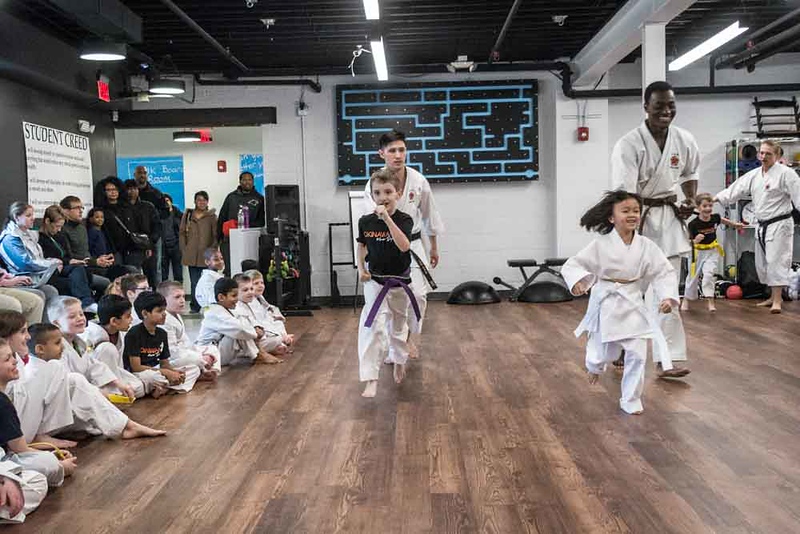 Program: Tigers
Age Group: 6-9 year-olds
At such a very important stage in their development, students in this age range need all of the right influences surrounding them to impact their development. Being able to defend themselves, should a need arise, is one of our primary goals. Therefore, we take full advantage of the energy and zest that kids have and channel it into an exciting and meaningful study of traditional karate.
Our curriculum uses forms/routines (forged by tradition) to introduce technique and understanding.  The numerous skill drills and free-form exchange keep our Tigers wanting more, as they learn speed and power.  The dynamic partnership exercises encourage respect, timing, control, and application.  Moreover, whether your child prefers slow-paced, gentle learning or well-controlled, and more assertive interaction (ie sparring techniques)…we tailor our Tigers Program to satisfy students on an individual level so that we can pull out their very best!
To ensure that our students take karate beyond the dojo, we carry them through short, topic-based discussions to uncover "real-time" solutions to some of life's unavoidable situations.  These interactions help lead students along their path to:
Increased  confidence
Self-discipline
Concentration and complex thinking
Improved confidence in the face of bullying
Increased self-esteem and outlook on life
Great extra-curricular activity for children who may not do well in team sports
Excellent way to cross-train the student who excels at other sports
And martial arts training tends to be safer than most school sports
Structure and routine
Goal Setting
Want to enroll or have questions about our programs?
Feel free to stop by our studio, give us a call at (443) 574-8999 or contact us online. We look forwarding to meeting you!