2021 Fitness Ninja Summer Camp.
The Okinawan Karate Dojo follows ALL local, state, and federal COVID-safe mandates and guidelines, which are constantly evolving.  Please read our current COVID-19 Summer Camp Policy.  If you have further questions, please contact us at 443-574-8999 or okinawankaratedojo@gmail.com.

---
---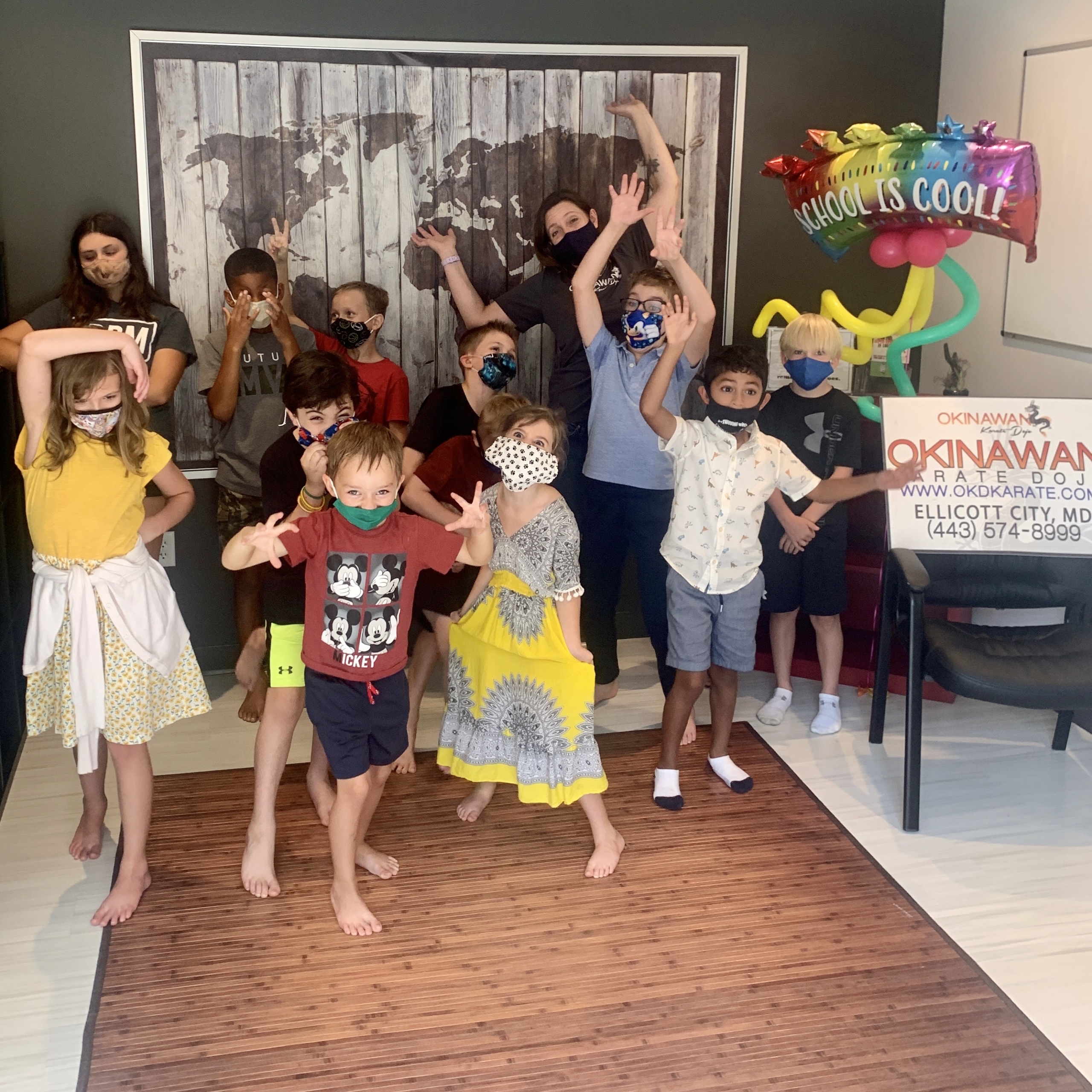 Day and week-long camps at The Okinawan Karate Dojo are exciting, full-filled opportunities for your child (age 5 – 14) to experience what wellness through martial arts can offer their total being!  All of the value-enriching experiences, life-giving skills, sense of belonging, character- and confidence- building activities, take place in (and outside) our safe, familial environment, with highly qualified, experienced, and caring staff.
The Okinawan Karate Dojo is a fully licensed Child Care Center by the Maryland State Department of Education, and a certified Summer Youth Camp, by the Maryland Department of Health.  Our spacious and clean two-level facility and outdoor area provide plenty of space for our campers to spread out, and our trained and experienced full-time staff are always there to ensure your child has a wonderful time!
Our School's Out Ninja Day Camps and Fitness Ninja Summer Camp are scheduled when the Howard County Public School System is closed for students.  Our camps are well planned action-packed days of relays, cooperative games and activities, karate drills, themed crafts, health lessons, field trips (week long only), swimming and water games (summer) and so much more!  Each camp offers distinctly themed activities to ensure a unique experience, while emphasizing physical development, personal success, team work, and FUN.  In short, our specifically crafted camp program will keep your children engaged, active, learning, and entertained!!
2021 Fitness Ninja Summer Camp activities include*:

Karate Classes
Fitness Ninja Obstacle Course
Health lessons and Discussions
Scavenger Hunts
Arts & Craft Projects
Yoga & Power Hour
High-Energy Indoor & Outdoor Games
Ping-Pong, Cornhole, and other Non-Contact Games
Team-Building and Cooperative Challenges
Movies
Water Games and Sprinklers
Pizza Lunch Friday's!
And MORE!!!
Field Trips and Swimming will be subject to venue availability and current COVID mandates.
*Summer Camp will be held indoors and/or outdoors, based on COVID-safe regulations.  All of the above activities are subject to those regulations also, and are not guaranteed to be part of this summer's camp programs.
---
2021 Fitness Ninja Summer Camp Details:
This camp is for children ages 5 – 14.
Camp Hours:  9:00 am – 4:00 pm
Before Care: 8:00 am – 9:00 am
After Care: 4:00 pm – 5:00 pm
Summer Camp Weeks:
Week 1:  June 21st – June 25th FULL (contact us for more information)

Week 2:  June 28th – July 2nd
Week 3:  July 6th – July 9th (4 days)
Week 4:  July 12th – July 16th
Week 5:  July 19th – July 23rd
Week 6:  July 26th – July 30th
Week 7:  August 2nd – August 6th
Week 8:  August 9th – August 13th
Week 9:  August 16th – August 20th
Week 10:  August 23rd – August 27th
Weekly Rate – $279 ($224 week of July 6th)
Daily Rate – $70
Before Care – $10/day
After Care – $10/day
Before & After Care, full week – $100
*Campers bring their own nut-free lunch.  Afternoon snack is provided.
---
2021 Camp Cancellation and Refund Policy
We recognize that you may wish to withdraw from camp for a variety of
reasons, but we encourage early decisions so as not to inconvenience other
participants or affect our ability to efficiently deliver activities.
Requests to change camp weeks or days will be accommodated if possible, but are subject to available space.  Please contact us directly for details and availability.
If your child is registered for a single camp day, and is unable to attend on that day, you may schedule a make-up day before the end of summer camp (Aug 27, 2021). Make-up dates are subject to available space. No refunds are given for missed days. 
If your child is registered for a full-week camp, no refunds are given for missed days.
Customers requesting a refund prior to three weeks before the camp starts
will be charged a 20% administrative fee, however if you request the credit
to be placed on your Okinawan Karate Dojo account for future use, no administrative fee will be charged.
All refunds requested within three weeks of the camp starting date will
be charged at minimum a 20% administrative fee. Additional fees may be
assessed to recover costs (e.g. for shirts, supplies, tickets, equipment etc.)
associated with the camp. 
---
Want to learn more about our traditional karate programs?
Feel free to stop by our dojo, give us a call at (443)574-8999 or contact us online. We look forwarding to meeting you!